First a few pictures from the recent "Harbour Surf Day", on Dec. 10, 2005 at Bolsa Chica State Beach, then a short story about my history with Harbour and the "Harbour Surf Day."
Also check out the Awefoto link to the right for Fine Art Photography, and some sweeeeet surf shots.
More shots from the day can be found here: "http://www.awefoto.com/surf/events/hsd-121005/index3.html"
And an article on the day in Orange County Register found here:
"http://www.ocregister.com/ocregister/sports/ocoutdoors/article_888678.php"
You might need to register, but it's free and a very good, short article.
Christmas in California, gotta' love it!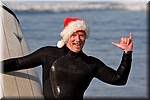 The next morning a big swell hit, and I saw this guy take a huge one; he's fun to watch.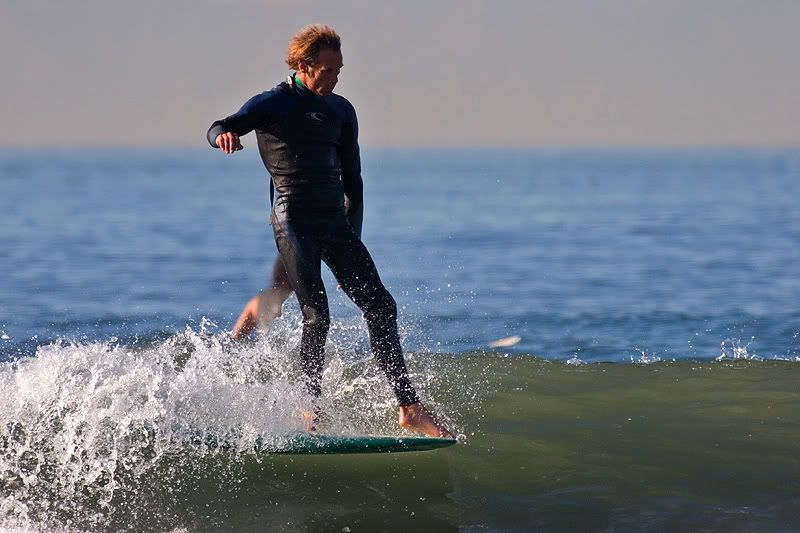 Boardhound surfs then passes out the shirts he helped design with Rich Harbour.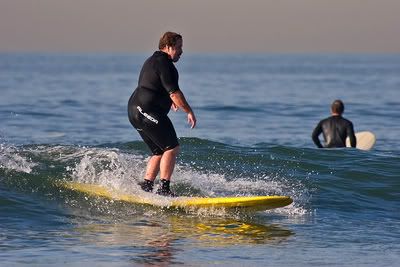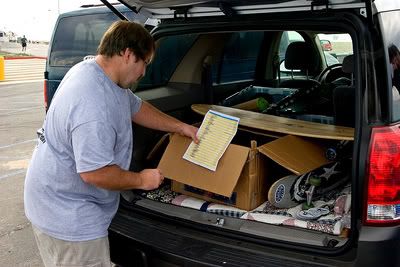 Jeff finds a fun one.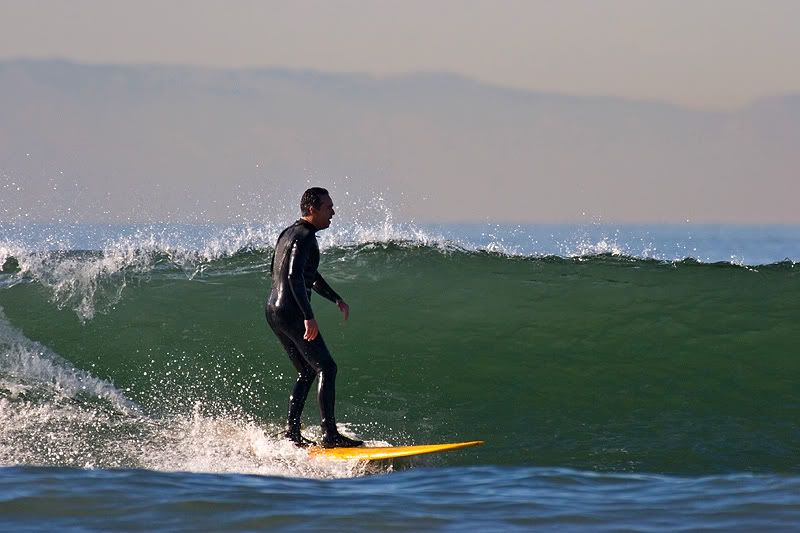 Classic!
TDRevolver lives the dream...loving it!
Bobby J. as Surfing Santa.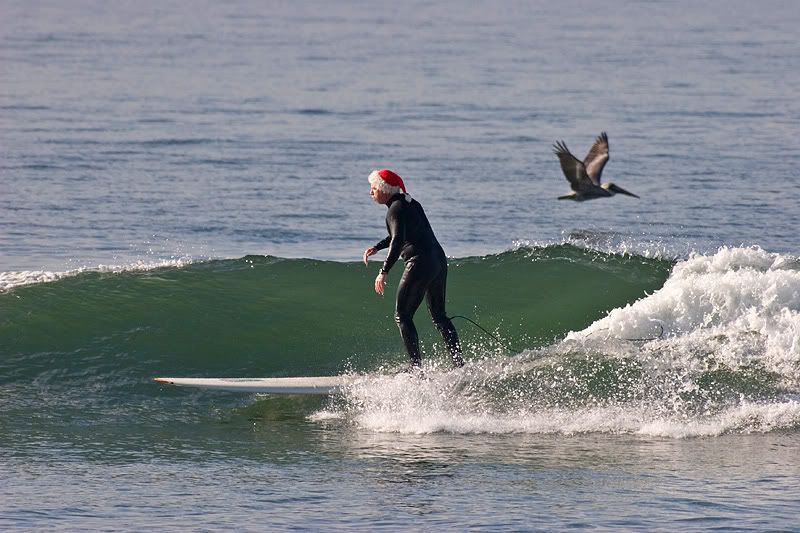 Rich Harbour and friends.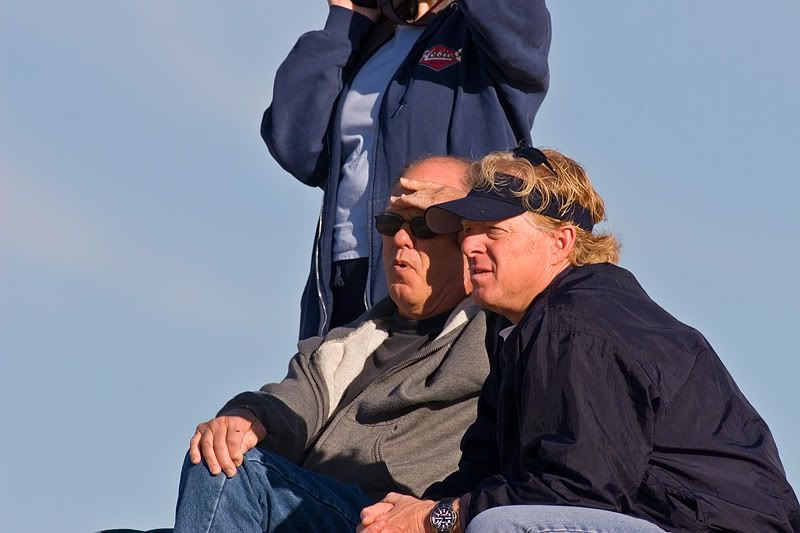 Jeff finds the glide.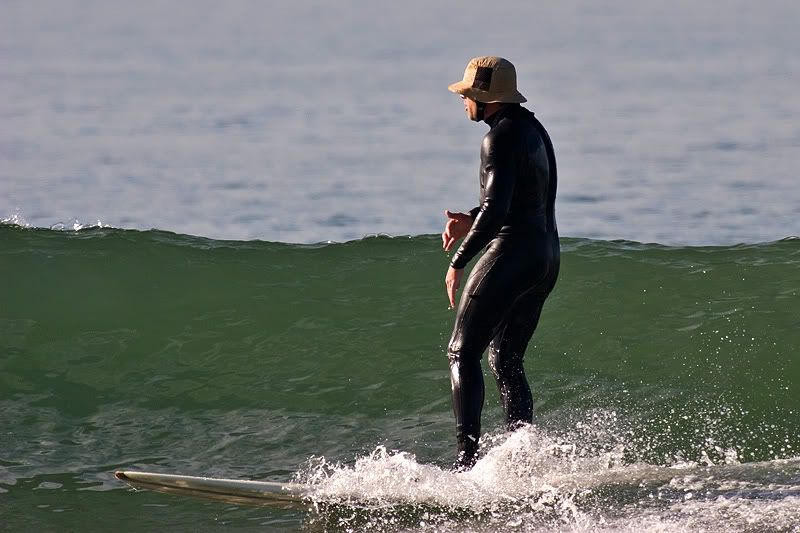 NReilly shares the stoke.
Small, but Sweeeeeet!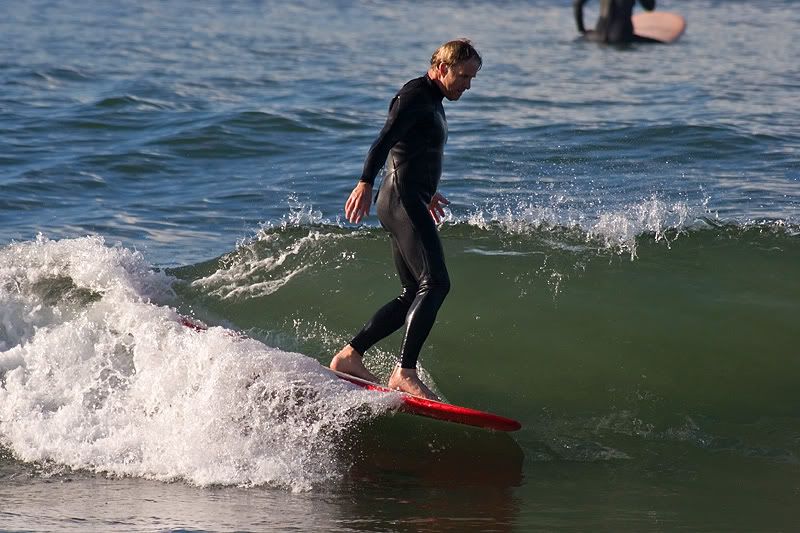 TDRevolver does the Zombie Slide.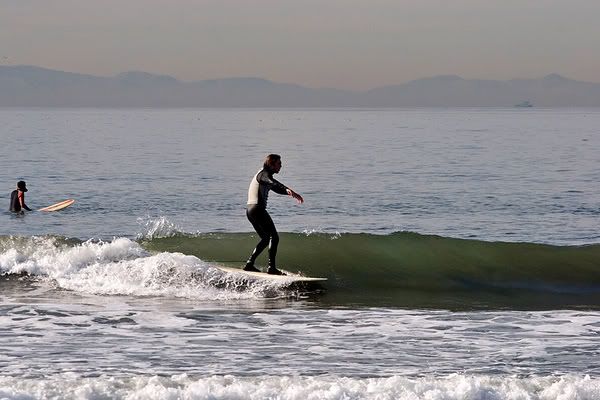 Surfing--it'll put a smile on your face every time.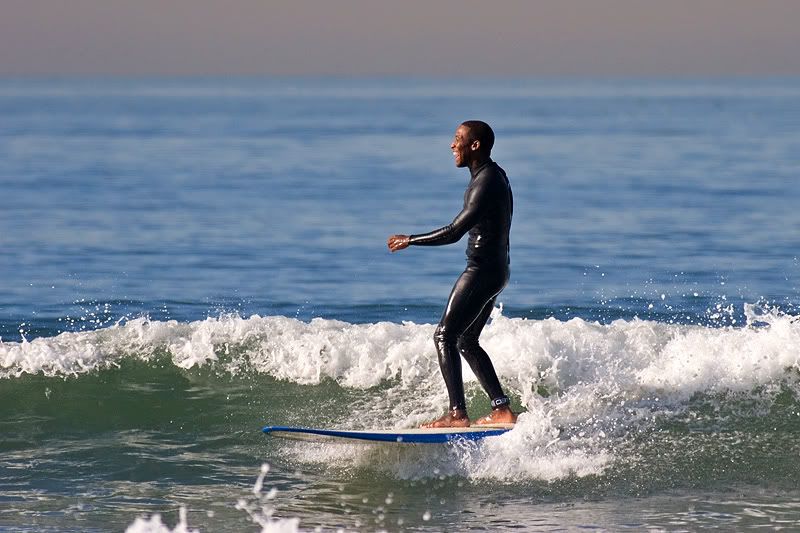 ____________________________________________________________________
"Harbour Stokes the Stoke."
by TDRevolver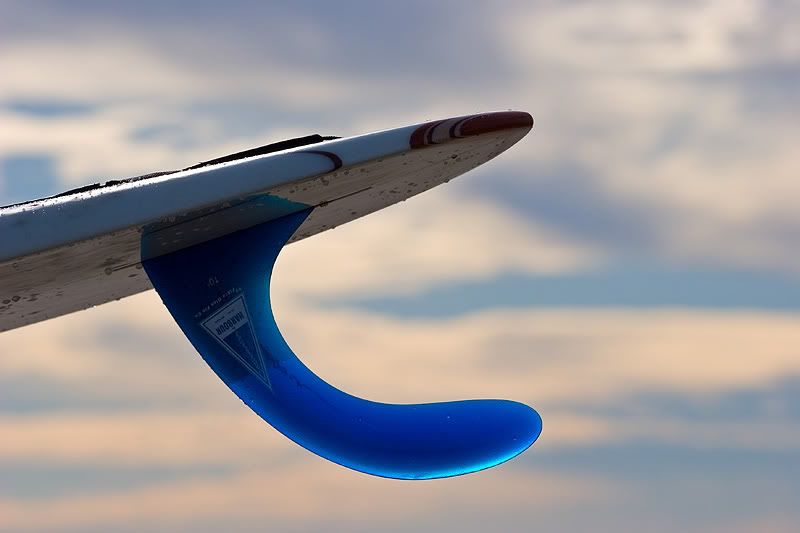 Dark clouds threatened to dump their load as Jeff and I turned off Seal Beach Boulevard and drove down our familiar route to Bolsa Chica State Beach early February last year. The Pacific Coast Highway was near empty as we crossed the bridge into the small town of Sunset Beach, heading for the first annual "Harbour Surf Day".
A large white heron glided across the ghostly waters while the hull of a small boat sliced through the mist that shrouded the marsh below us. The lone fisherman braved the pre-dawn cold temperatures, trolling through the channel leading to open waters.
Reaching the highpoint of the bridge, I slowed the car for three reasons; to avoid the often-present speed trap, to pay homage to the service men as we passed the Destroyer that sat docked in the small bay, and to catch a glimpse of the morning swell. Despite a sky-line that seemed to be changing daily as classic two story beach houses sprang forth three story skeletons that exploded into completed luxury condos, we could still scout the waves via the Northern corner of beach left open near the jetty, and the waves were breaking.
"Some size out there." Jeff said.
I nodded. "Only the core will show on a day like today."
Moments later, as we passed Jack in the box, excitement growing as the day we'd talked about for months on the chat room grew closer, the air was let out of our sails. Orange barriers ran across PCH just past the Warner intersection. The road was closed, washed out by the rains.
"Dang' it." I growled as I took a right into the cul-de-sac behind Jack in the Box, and pulled to the curb. "Well, that's going to cut down on the numbers."
Not to be thwarted that easily, we pulled up to the exit, staring down at the jagged faded orange spikes that stuck up like talons from the black top, threatening to rip my tires to shreds.
"What do you think?" I said, turning to my co-pilot.
Jeff smiled, "I say we try it."
***
Several years earlier, as a new surfer who had tried several boards, and had finally developed the skills to ride a face, I was wanting to learn more about surfboard design, surf history, and all that related to surf. I'd yet to subscribe to, or even read a surf magazine, and so I went to the one place where I knew I could ask my kook questions and be received with open arms…the Internet.
I soon realized that asking a question on most internet chat rooms that related to surf was like rolling around in beef and jumping into a pool of piranhas. The following months would not only teach me much about surfing the waves, but also about surfing the chat rooms.
One day, as I perused another shaper's cyber room, I was asking about the appropriate size board for my size and weight, and whether or not I should be transitioning from my 8-foot beater board to a 10' cruiser, 9'2 performance long board or 6'8 short board?
Many friendly and not so friendly surfers of the cyber waves put forth their input, and at one point a pleasant poster pointed out that www.Harboursurfboards.com had a great size chart, and it would be great place to start (of course this guy was reamed for even mentioning another shaper's name on someone else's site, and the lurking Trolls leapt from their dark holes and several pages of senseless banter ensued). Never the less, I ignored the barrage and went in search of these size charts.
What I found I could honestly say changed the course of my life as a surfer.
Rightly so the Troll had tried to protect the unnamed surf shop's web site from competition, for once I visited Harbour's site, I rarely stopped by another. The well laid out web pages not only were easy to use, but the information was superb. The photos of the surfboards were awesome; with front, back and profile shots of the boards. Although it would be over a year before I would own a Harbour Surfboard, I quickly had several dancing across my laptop's screen. A yellow Simms (now known as a Diamond Tail), a Trestles Special with its aggressive 'show me a point break' outline, and of course, what would be my first Harbour, The Spherical Revolver, a retro style single fin.
I quickly read through all the site had to offer. The history of Harbour Surfboards, where I learned that the Seal Beach location is the oldest running surf shop in the country, that Rich Harbour worked with legends like Chew, August, Martinson. That Rich himself had been inducted into the surfer's hall of fame. I read about tail design, rocker, outline, and shape—later I would watch videos on these very concepts, on the web site, videos of a board being shaped, and the art that it is.
All this I took in with zeal, eagerly checking the "New Arrivals" section, just to get a peak at a new board.
I began to read the message boards on the site, and I noticed, that outside of the occasional Troll that attempted—and failed—at hijacking a thread, the conversation was mature, informative, and most importantly, it stoked the stoke. Stories from surfing in Hawaii in the sixties, posts after morning sessions in England or Australia, talk of a retro board being restored, decisions on the next board to buy being discussed, theorizing on how the rise of Starbucks corresponded with the lost soul of surfing, Awe f'shore's stellar photos and of course the general chatter about surfing.
Then I saw what truly amazed me, answers to questions by non other than Rich Harbour. Not one word answers, but well thought out, years of experience, want to help answers. He answered questions about everything from the right board for a given break to board repair.
It was through discussions with Rich on-line—as well as input from posters with the nicknames; Boardhound, Slider (Jeff), PacSlim, Bobby J, NReilly, Sunbums, 5over and Awe f'shore (to name a few)—that I came to call up Robbie at the shop and place my first order for a 7'4 Spherical Revolver with 2 plus 1 option.
One of the amazing things about this virtual world we live in, is that I had talked with Rich, become friends with countless Harbour owners, and knew more than most about Harbour History—and I'd only been in the shop one time. I first entered the shop not knowing it from any other, when I had bought my first quality (used) long board at another shop years before and the guy had not included the screw and nut for the fin, I had stopped at Harbour on the way to surf Seal, and Robbie was as nice selling me a $1 item then as he was when I bought a $800 board later.
Well, when I went in to pick up my board I wasn't disappointed, as the web site is 1st class in the virtual world; the shop is 1st class in this dimension.
Robbie helped me that day, and was polite and informative, willing to answer all my questions. As I came to visit the shop more often, I met the owner Robert, who's always willing to share his ideas on board design, riding style and the best board for me. It is always a pleasure to stop by the shop. The same thing that drew me to the Harbour web site and kept me there, was what appealed to me at the shop, they treated you like family.
A prime example of this is the occasional "Classic Film Night" that Rich has hosted over the years; Robert, Robbie and staff lay-out the goodies, Rich answers questions, and we watch original footage shot by Rich from the golden era of surfing.
Now the Harbour shop is a regular part of my routine, I surf some waves, grab the best burrito I've ever tasted at Nicks, stop by Harbour and say hi; gazing at boards I hope to own soon. Bottom line, when you go by the shop, the stoke gets stoked.
So there I was, my first day on my new board, appreciating what great craftsmanship means to riding a wave, getting the best rides of my life on my new Spherical Revolver with canary deck and one-drop grey rails, and I see a guy on the shore raise his hand to say hi. After a few more rides I decided to catch one in to see who watched from the beach, camera in hand.
It was an inconsistent day, with occasional peaks rising up here and there, and a small off shore breeze to keep them high. One such peak rose up just South of me, I paddled for it, the wide outline of the SR allowing me to cover the ground easily, turning into the wave, that same outline gave me the early entry I needed at that stage of my surf life—and still do on bigger days.
Dropping in, the wide rounded pin drew a perfect arc for a nice left down the face of the wave. Being a goofy-foot, I was able to caress the glass with my left hand. The flattened out bottom and hard rails at the tail gave me the speed I needed to race down the face. Tucking low, and enjoying the chest high face that rose before me, I laughed, this board rocked! Just as the wave broke, I drove the board into the surf, ricocheting of the break and letting the wave propel the surprisingly agile SR out of the closeout, gliding to the safety in front of the pounding surf.
I rode the wash in, a fist in the air that was matched by the man on shore.
As I walked up the sandy beach smiling, my buddy who I now know as Ron (Awe F'shore), who I probably would have never met outside of the Harbour Web Site, said, "Nice ride. How ya' doing man?" Ron had shown up to snap a few shots of me on the SR because I'd been talking it up on the message boards.
Now when I say snap a few shots, I mean create art (of course when I'm the subject, the only art you'll find is in lighting, composer, etc.) Ron is now a professional photographer, and his photos are Awe-inspiring. His photo accompanies this story and you can view his work at www.awefshorephotography.com.
I always look forward to a beer with Ron and tapping into his knowledge about swell direction, board shapes and general surf lore. Ron is just one example of the quality people that become part of the Harbour family, people who love the history of surfing, love to surf, and love to stoke the stoke.
So after meeting Ron, I got to thinking, I'd like to meet more of the guys from the message boards. So I threw it out there with something like, "Harbour Surf Day" as a topic line. The members jumped on the idea, and the chat increased on the topic. Soon the master planner Mr. W. was on the ball for food, Awe f'shore had volunteered to chronicle the event in pictures, and Rich and Robert said they'd stop by to say hi. The date was set, the pre-event banter was high, and all were excited for the first big, "Harbour Surf Day"…and then it rained all week.
***
"Dude, I'm not blowing out my tires. We could walk." I said as we sat staring at the exit claws of death.
Jeff's smile faded. "This sucks."
I thought aloud. "One time I camped here, got back after it closed, and these guys used some wood to hold the spikes down while they crossed. Let's see if we can find something." I opened the door and we both searched around, finding two small pieces of wood.
Jeff lined them up as I pulled my car forward, looking out the window. "This looks sketchy, they are barely covering a wheel's worth of spikes."
"You'll make it." Jeff said. It wasn't his car.
I slowly accelerated, Jeff adjusted as I got closer, and CRUNCH…the first tires were over, but one of the boards had smashed in half.
"Dang it!"
"Now what do we do?"
"Find something else."
"Oh Crap."
"What?"
"A beach cop's coming."
"Dang it!"
"Quick, use what you have, I'll angle it so use the same one for both. I want to be in when he gets here." I cried out in a panic as I pulled up so that the back tire was almost on to the pointed metal. "Hurry up."
Jeff worked quick and said, "Go for it."
I put the gas down, and the left rear cleared, Jeff moved the board, and the right tire crunched over. "Jump in, let's start driving like nothings wrong."
Jeff hopped in and we made are way North toward tower 20, at least until the Dodge Ram with the pretty lights on its roof pulled sideways across the road to block us.
The beach-cop walked up to my window, and said with agitation. "What do you think you're doing?"
We proceeded to explain that a Harbour Surf Day was taking place and we needed to meet people, and the road was closed, and we had a pass, etc. Finally, after much cajoling, he let us go.
From that point on it was smooth sailing; the resilient were there and kept arriving. Mr. W had set us up huge with burgers, dogs, and all the fixings. Coffee was brewing and the tent was up. People were surfing the cold winter peaks then hiking the mile back after a couple of rides with intense riptide conditions, and the Bolsa B#### was in full effect. Rich was discussing board design and the day was everything we hoped it would be. Although the crowd was small due to weather conditions and road closures, the core were there, and the stoke was stoked.
It wasn't long after that first "Harbour Surf Day" that we decided to have another. This one was slated for spring, and the turn out was bigger. A warm sunny day saw Rich and his wife cooking up breakfast burritos that would compete with the best. Once again, the vibe was good, Awe captured a plethora of shots that he graciously posted on his site, and we all had a great time.
And the third annual "Harbour Surf Day", just happened on December 10th, 2005. It was our best turn out yet, and fun times were had by all. A clear brisk day with clean small waves made for perfect surfing conditions with the crowd size. Several of us were out early and reaped the benefits of few people in the water and the best waves of the morning. It was great to hang with people who I hadn't seen since the last gathering. For one or two Saturdays a year it might make for crowded surfing conditions, but I think well worth it for the stoke that is shared. I'll let the pictures speak for themselves, more can be found at this link.
So a couple of years ago I went on to a web site to get an idea of what size long board I should be looking for, and what did I get? A surfing buddy in Boardhound who'd drive you to Cabo and not ask for a dime in gas, a brethren bard philosopher who happens to be a pro photographer in Awe F'shore, and a good friendship with guys like Bobby J., who I can call to share the stoke with anytime…oh, and I found out I should ride a 9'6 long board, 7'2 SR, and a 6' fish.
"Harbour Surf Days", not too organized, nothing fancy, just a bunch of surfers who appreciate the soul of surfing, want to ride some waves, share a tale, and most importantly, follow in the steps of Rich Harbour, who for years has been stoking the stoke.
By
Trevor Downs
a.k.a. TDRevolver